The Village of Saranac Lake is located in the heart of the magnificent High Peaks Region of the Adirondacks and is famous for its many beautiful lakes and streams including the Upper, Lower and Middle Saranac Lakes, Kiwassa Lake, Oseetah Lake, Lake Flower and Upper and Lower St. Regis Lakes. These waters offer some of the finest fishing in the country and are home to many native species of trout, bass and pike. The Saranac Lake region offers visitors a rich variety of historic, artistic and cultural attractions.


next> play stop

Please enjoy our Slide Show of Beautiful Adirondack Scenes
by Photographer Frank Houck


---
Your Gateway to spectacular Saranac Lake homes and Saranac Lake real estate in the Adirondacks and Upstate New York.

We invite you to take a virtual tour of some of the most beautiful Saranac Lake properties currently for sale in the Adirondacks. We also invite you to preview homes and properties for sale in the Catskills & Hudson Valley Region.

This web site is a unique showcase for Adirondack Great Camps, mountain ski chalets, log cabins, fishing and hunting camps, waterfront properties, charming country inns, B&B's as well as unique vacation rental properties throughout Upstate New York.
ADIRONDACK GREAT CAMPS GALLERY

Click here

for more Adirondack Great Camp images

& Rustic Adirondack Furniture Gallery

The Adirondack "Great Camps" - were rustic yet elegant retreats built by wealthy families at the turn of the century.
A brief history of the Adirondacks from the first sighting by a European in 1535,

through the eras of trapping, iron mining, and lumbering, to the development of railroad and steamboat lines that led to the influx of tourists and building of the "Great Camps". The sixty years from 1870 to 1930 were the heyday of these camps, the "Guilded Age" of the Adirondacks. Kaiser gives a fascinating account both of the personalities who engineered and financed these fabulous structures and of the bulidings themselves.

Recent Adirondack Great Camp sales


SOLD JUNE 2006
PRESS RELEASE MAY 19TH, 2006
ARCHITECTURAL DIGEST EDITORS SELECT
"CAMP COBBLESTONE"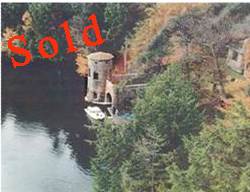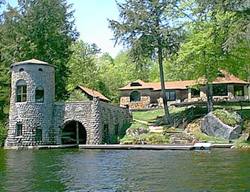 Rob Grant & Associates Real Estate announced today that Camp Cobblestone has been chosen by the editors of Architectural Digest magazine as one of the outstanding " SELECT PROPERTIES " from around the world.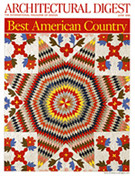 Rob Grant & Associates Real Estate announced today that Camp Cobblestone has been chosen by the editors of Architectural Digest magazine as one of the outstanding " SELECT PROPERTIES " from around the world.

Architectural Digest's panel of editors chose Camp Cobblestone for its remarkable architectural style and historic value. This designation is given to outstanding estates from around the world which meet Architectural Digest's criteria and are currently offered for sale to a worldwide audience.
Rob Grant, principal broker, stated that "when we first received news about Camp Cobblestone from the editors, we were thrilled and delighted about Camp Cobblestone's unique designation. Camp Cobblestone joins a unique collection of properties selected by the AD editors which features international estates and castles in Italy including such unusual properties as a 16th century Villa and vineyard with 500 acres of olive trees offered for sale @ $ 24.5 million, as well as a Belgium Chateau built in 1910 overlooking the Ourthe river".
The current June issue of Architectural Digest showcases Camp Cobblestone in the Adirondacks as well as a selection of rare and unique properties from around the world. Camp Cobblestone is being offered for sale @ $ 3.9 million by Rob Grant & Assoc. .
Visit Historic Saranac Lake
www. Saranac Lake NY .com

---

Click here to visit Historic Saranac Lake
www.SaranacLakeNY.com
www.SaranacLakeNewYork.com


Click here to visit the Olympic Village of Lake Placid, New York
www.LakePlacidNY.com
www.LakePlacid-NewYork.com


---
"Tired of looking at that old car or boat sitting in your back yard! Now you can donate it to your favorite charity and receive a valuable tax deduction! All with one simple click!"


Donate Your Used Vehicle to Charity!
Donate your used car, boat, motorcycle, van or RV to your favorite charity & receive full fair market value as a tax deduction!
Click here to learn more and search for your favorite charity!
Free nationwide pickup and no complicated paperwork.
It's fast and easy. All vehicles accepted.
Search and choose from hundreds of religious institutions, schools, and charitable organizations including cancer research, multiple sclerosis and heart disease.